A basket created with love
by Dianne McDonald © 2016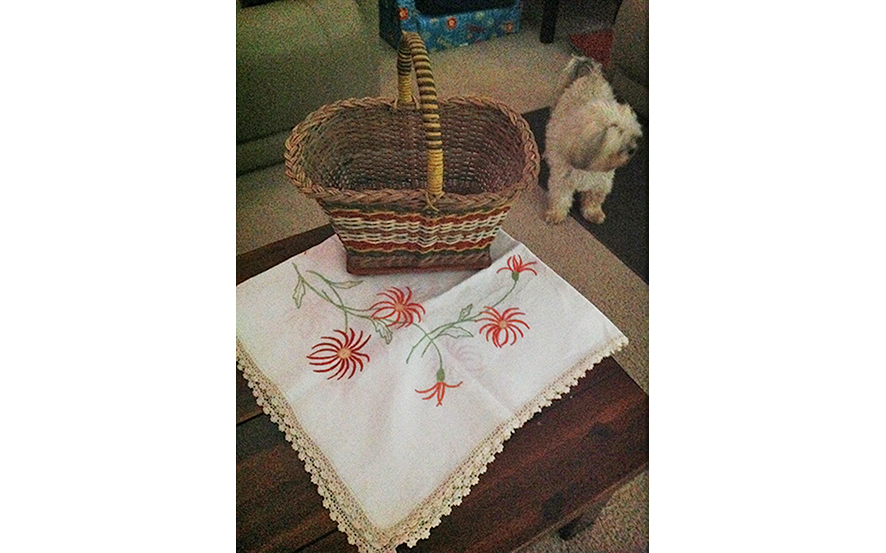 Figure 1. Dianne McDonald, Handmade cane basket on hand-embroidered cloth, 15-year-old Sam standing guard, 2016. Digital Image. Private Collection
My  object is an example of how the concept of  material  culture  '………made, fashioned, transformed as part of collective social life……' contributed to continuing development of social and family connections.  It is a simple cane shopping basket made by my paternal Grandma (ably "assisted" by 4 year old me) as a gift for my maternal grandmother, (Nanna). Since "basket weaving is one of the widest spread crafts in the history of any human civilization  it is hard to say just how old the craft is but undoubtedly during Grandma's younger days living in a poor farming family in the late 19th century, basket weaving had been a necessary skill practised by many of the women in her family and social peers to supplement family income and providing practical tools for their own use. I would like to think that they also found relaxation and enjoyment as they worked at their craft.

The basket was made near the end of WW2, the lived experience and aftermath of which served to cement a long friendship between two women. Grandma and Nanna would have been highly emotional, feeling relief that their sons who had all served in theatres of war had fortunately returned safely, in equal measure with deep sorrow for friends and relatives who had suffered tragic losses of husbands, wives, sons and daughters. Family and community wealth at the time was limited and craft skills again contributed to the wellbeing of families recovering from years of war. The basket and the cloth (embroidered by   Nanna and given as a gift to  Grandma) on which the basket rests in the photo, symbolised the strengthening of family ties between those two remarkable women. It was also my introduction to a lifelong love of family history, craft activities, development of a wider sense of extended family and a passionate attachment to baskets, which I can't resist and collect whenever possible.

The basket is not particularly large, measuring 28cms x 40 cms at top, 20cm x 25cms at the base and 36cms in height to the top of the handle, but its importance to me is huge. It tells an ever-evolving story of its versatility and how a carefully and lovingly created object can have such meaning to so many people across multiple generations. It also serves as a catalyst to debate the currently favoured concept of bare, clinical and boring domestic spaces. Constant vigilance in my home is needed to ensure that my minimalist husband doesn't throw away my collections of family history memorabilia – most especially my basket.
The basket base is an offcut of wood, left over from my builder/cabinet maker paternal Grandfather's project at the time. Following explicit instruction by Grandma, he drilled the holes around the edges of the wood, so that she could begin constructing the basket. I do not recall where the cane came from --- Grandma just had collections of "stuff" in wooden fruit boxes in the spare room which she used to make all manner of useful objects, not just baskets. The "stuff" shared this room with a hand-operated sewing machine, a spinning wheel and a weaving loom, all skilfully used by Grandma. However, having suggested collections of stuff, as the source for materials to make the basket, I do remember shopping expeditions to town with Grandma and a large department-like store with overhead change canisters on pulleys. Grandma and Nanna bought their craft supplies at that store, so perhaps we bought the cane there too. 

My role as assistant saw me keeping cane submerged in fabric dye solutions so that Grandma could weave different colours into the basket, holding steady the upright "spokes, stakes or staves", which as advised by Linda Hebert of V. I. Reed & Cane, Inc., designer of the "Basketry Studio A" kits & patterns, are the three interchangeable names for the same part of the basket structure" as Grandma began to weave the strands to form the sides of the basket, and keeping the natural cane wet and  ready for use so that it wouldn't split and break. During those times which I loved and remember very fondly, Grandma told me stories of how her family came to Australia from Ireland, what they did and where they went when they got here,  sang Irish folk songs, and  recited poetry, especially Banjo Patterson's A Bush Christening, first published in "The Bulletin 16 December 1893".  I heard and loved that poem so often that "Maginnis Magee" became almost like family to me.

During its   lifespan, the basket has had many uses other than its original purpose as a shopping basket, most notably as a container for wool and embroidery threads used by Nanna while creating beautiful knitting, crochet and needle work; a darning basket, Grandfather's sock basket, a peg basket, a holder of soft toys for small children and   at one stage a snuggly bed for a tiny puppy that Nanna found in the gutter outside her home. Originally designed to be a welcome gift  and a useful tool,   which it has continued to be through all its uses, the basket is a much loved and beautifully   evocative object which has never been sold or traded. It does show signs of wear, it's shape has become a bit warped, there are a couple of splits in the cane, and there are  faded colours in spots, but given its age and its varied uses it remains in remarkably good condition.

From the time it was created, I coveted that basket and accepted it with great delight when my Nanna gave it to me.  Now in my possession, it holds a significant collection of multigenerational family memorabilia, and I am hopeful that my history-loving   granddaughter will love this basket as much as I do, keeping it safe   when I am no longer able to do so.
Credits and References
A.B 'Banjo' Paterson page,  A Bush Christening, Middlemiss http://www.middlemiss.org/lit/authors/patersonab/poetry/christen.html  (accessed 1 August 2016).
Linda Hebert of V. I. Reed & Cane, Inc., designer of the "Basketry Studio A" kits & patterns http://basketweaving.com/shopsite_sc/store/html/basket-weaving-frequently-asked-questions.html  (accessed August 1, 2016).
Sourced from UTAS Place Image Object Unit Week 1 Chapter 1, from "Culture". 2000. in The Blackwell Dictionary of Sociology, Allan G. Johnson. Oxford: Blackwell Publishers. http://search.credoreference.com/content/entry/bksoc/culture/0 (accessed August 1, 2016).
Wikipedia contributors, "Basket weaving". Wikipedia, the Free Encyclopedia, https://en.wikipedia.org/w/index.php?title=Basket_weaving&oldid=732714830 Date of last Revision August 2, 2016 (accessed August 6, 2016).